Sadly today with wet tracks around and the form leading into today for every runner I looked at was based on Heavy track form or slow 7. Its just been so poor its not worth the risk. We have no consistent form anywhere.
Howard is a lifelong client and he was keen to ask me to clarify my C Plan strategy. It is explained originally in my book Race Winning Strategy, thats the one with the red cover in case you want to look it up but anywya heres our conversation
I have a question re the c plan
Do you operate it during a whole days racing or do you stop eg when you have a good winner on the first race?
If you stop and the next day you got a rough patch then the one winning race you had wouldn't be enough to cover the losses .
It always bothers me that I might be leaving money on the table by stopping although I know that can quickly go against me .
Wondered how you as a professional approach it . I know in some of your books and emails you allude to both ways of betting ie  . Stopping at a decent profit or going through all the viable races
I would appreciate any thoughts you have
Regards
Howard
My reply
Hi Howard,
It's the eternal question. Make many smaller investments or one major investment?
If you were doing Money Factory then the more races the better and I did this for a long long time.
I also had a pair of father and son clients who worked it with the son doing the day and the dad doing the night. His philosophy, well why miss the races like WA for example that were run in the Eastern night .
There have been some longer runs of outs …its inevitable but they will be overcome.
Anyhow. My plan was simple do the first eligible race and I was putting out $500 so a win got me a good win. If  a loss go the next one and hope it wins getting you square and then if you had another one and it won theres your $500.
Or …just use the MF bank (with a back up) and do as many as possible….if you have the time and commitment.
I no longer have the time or commitment but I keep up with a PSP so it goes up or down according to what happens. Mostly I want an early race but if none available early a later one. If I get to check later in the day ( I pick up grandkids from the school bus) and I spot a likely race I will likely add it as its always a 50/50 proposition.
Hope that helps
Garry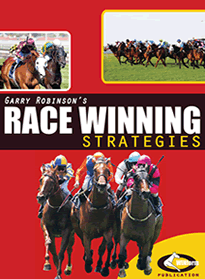 This is the book I was referring to. In one section I looked at doing every race for the week or quitting when in front for the day. Stopping after getting in front made 5 units in front for seven days and only one losing day.
Betting all eligible races for the week made 5.33 units. Was it worth the extra time and energy??? Of course if you were using Money Factory it would be worth it but my demo was to outlay a larger fixed sum so that level stakes i.e. the same total amount on each race but dutched between the two eligible selections.