This will be a C Plan race for sure but maybe 50% profit is the best we can expect. The track has improved and there is a good temp and high drying wind.
One at odds is Sacramento which wn the Canberra Cup is very fast time but that was on a good track. It is likely to lead but the straight may find it out running into the teeth of what is currently a strong westerly.
 4:05 Newcastle Race 6 2300m 3YO+  Gp3 HCP na Cval 2.6  $250000
No     Form Horse              BP Hcap WF Wodds  AS Jockey      
2 X1-1-2-1 Mankayan            3 59.0  1   2.7  7G BMelham
9 47421×21 Born A King         4 54.0  2   4.9  6G KMcEvoy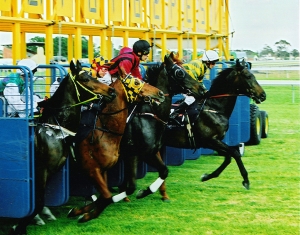 THis is the Newcastel Cup start last time we were there.  The picture was reversed to suit one of our magazine covers.