Newcastle has never had Group 1 Racing before but the track is certainly worthy of it. These days it races incredibly well and I expect a lift to soft 6 if no further rain falls. Right now 9.32 a.m. it is Sunny and moderately warm. Far be it for me to predict the weather, finding winners at the track is hard enough. Hope you have a good day today.
Heres the Jump in a previous Newcastle Cup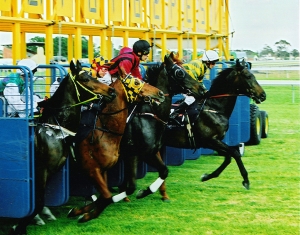 and yes the start is reversed for those who think they've spotted an error.
these are my specials for today
——————————————————————————————————-
28/03/2022 1:45: Quirindi 1 6 Suva May HRC
28/03/2022 2:40: Queanbeyan 2 1 Areeba Spirit HRC
28/03/2022 2:40: Queanbeyan 2 1 Areeba Spirit HRCS
28/03/2022 3:50: Queanbeyan 4 6 Final Showdown HRC
28/03/2022 4:10: Quirindi 5 1 Vandangle GBM
28/03/2022 4:50: Quirindi 6 2 Opaleyes GBM
28/03/2022 4:50: Quirindi 6 5 Badboy McCoy HRC
28/03/2022 5:20: Newcastle 6 2 Hinged WGC *** My Personal Best.
Here's todays possibles for today based on our Amelia plan
——————————————————————————————————-
28/03/2022 1:45: Quirindi 1 6 Suva May AM
28/03/2022 2:05: Queanbeyan 1 1 Good Deed AM
28/03/2022 2:05: Queanbeyan 1 6 Whats My Scene AM
28/03/2022 2:15: Newcastle 1 4 Poetic Charmer AM
28/03/2022 2:15: Newcastle 1 8 Taksu AM
28/03/2022 2:20: Quirindi 2 5 Craigs My Boy AM
28/03/2022 2:20: Quirindi 2 6 Eezee Boomer AM
28/03/2022 2:40: Queanbeyan 2 1 Areeba Spirit AM
28/03/2022 2:40: Queanbeyan 2 7 Las Vegas Girl AM
28/03/2022 2:55: Quirindi 3 5 My Khaleesi AM
28/03/2022 2:55: Quirindi 3 10 Flying Squad AM
28/03/2022 3:15: Queanbeyan 3 1 Deviate AM
28/03/2022 3:15: Queanbeyan 3 6 Sestina AM
28/03/2022 3:25: Newcastle 3 8 Mirra Vision AM
28/03/2022 3:25: Newcastle 3 9 Kiku AM
28/03/2022 3:30: Quirindi 4 2 Mr Cruise AM
28/03/2022 3:30: Quirindi 4 5 Jillonni AM
28/03/2022 3:50: Queanbeyan 4 5 Starmoss AM
28/03/2022 3:50: Queanbeyan 4 6 Final Showdown AM
28/03/2022 4:00: Newcastle 4 6 Chat AM
28/03/2022 4:00: Newcastle 4 14 Mr Mozart AM
28/03/2022 4:10: Quirindi 5 1 Vandangle AM
28/03/2022 4:10: Quirindi 5 10 Ideel Girl AM
28/03/2022 4:50: Quirindi 6 2 Opaleyes AM
28/03/2022 4:50: Quirindi 6 5 Badboy McCoy AM
28/03/2022 5:10: Queanbeyan 6 3 Promise Bay AM
28/03/2022 5:10: Queanbeyan 6 8 Jauhera AM
28/03/2022 5:30: Quirindi 7 4 Photogenic AM
28/03/2022 5:30: Quirindi 7 10 Lan Kwai Fong AM
28/03/2022 5:50: Queanbeyan 7 2 Written Statement AM
28/03/2022 5:50: Queanbeyan 7 3 Camporeale AM
28/03/2022 5:55: Newcastle 7 9 Exoboom AM
28/03/2022 5:55: Newcastle 7 18 Maotai AM